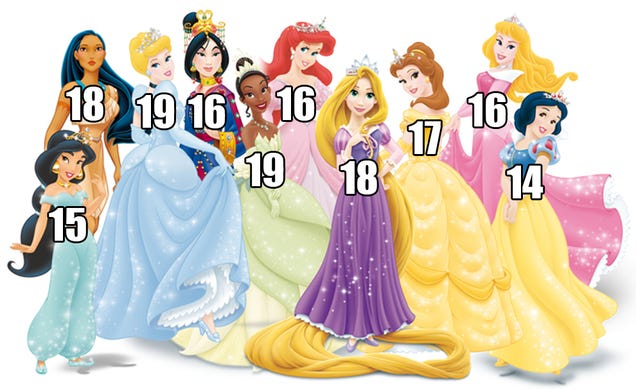 via
A crazy infographic telling the true ages of the Disney princesses.
The preschool-aged girl I nanny
constantly reminds me
that Elsa from Frozen is, in fact, a QUEEN
not a princess.
As we play with her dolls,
she tells me we need to decide which princess is the "most
beautifulest
" to marry the prince. I posit
, through the voices of the dolls of course, that sometimes princes look for the girl that is the "most funniest" or "most smartest."
Sometimes princesses have bigger goals than convincing a prince to marry them.
It pained me to hear her say that princesses can't be beautiful and smart. Oh yes they can, Sweet Girl.
In order to further derail the princess myth ingrained in her still developing mind, I've been creating
a new princess for our own story times. This princess isn't actually a princess, but we haven't got that far in the story.
She lives in a walk-up apartment, rather than a castle.
She is fiercely independent, imaginative, inventive, and she has purple hair, because, why not? She solves problems through math,
creativity, and kindness, instead of finding a man to fix them.
Her
mom texted me last night telling me she
wants to
ask Santa
for a doll of this new princess for Christmas. I told her I'd have to write the book first, before dolls could be made.

Poor Santa might have trouble finding her this Christmas.
It's moments like these that let me know
she might be getting some of what I'm trying to teach her
. I could be wrong; maybe she just wants more princess dolls.
I hope
after however long I get to spend with this precious girl, she remembers
it doesn't matter if she is the "most
beautifulest
," "most funniest," or even "most smartest." What matters is that s
he is true to herself
and has meaningful goals
beyond
convincing a "prince" to marry her.
*FTC disclosure: Amazon affiliate links used. If you make a purchase through my link, I earn a small percentage from Amazon. The cost is always the same for you.